Multiple Car Wash Entry Systems Available
Portal TI Pay System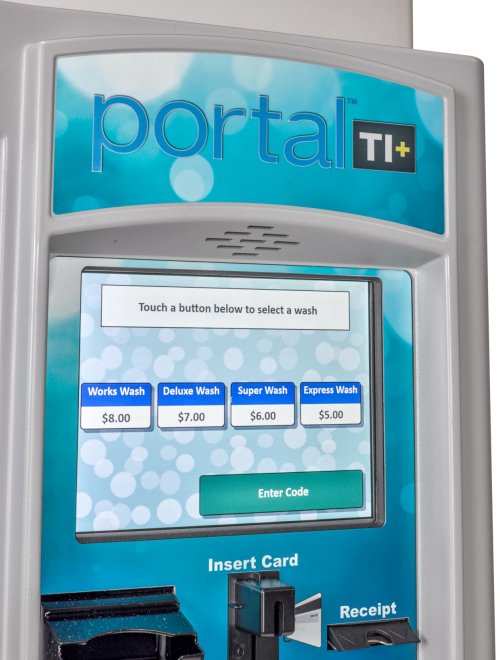 The Portal TI® automated payment system from Unitec Electronics features an award-winning design and easy-to-use customer interface. The Portal minimizes the consumer's reach for a simple and efficient transaction.
The Portal TI has multiple payment options, a large color graphics screen and multi-level security features. Customizable graphics panels, programmable receipt messages, greeting banners, and video clips provide a multitude of marketing and advertising opportunities. Additionally, the unit has easy-to-access reporting capabilities for optimal site management
Windows® POSReady operating system

EMV and Contactless payment solutions (optional)

IDX multi-coin acceptor, programmable for up to 6 types of coins or tokens

Rollover and tunnel compatible

High speed thermal printer (text & graphics)

with programmable receipt messages

Ultrasonic proximity sensor (for customer presence recognition)

Integrated alarm system with battery back-up

Integrated heater and heat exchanger

Heavy wall (.104") case with high-security locks and separately keyed cash compartment

Visa®, MasterCard®, American Express® and Discover® acceptance via Internet credit card clearing system

Two outdoor-rated 5W speakers
WashPay®
Unitec WashPay System
Unitec's WashPay™ Site Management System allows wash owners to accept credit cards in self-serve bays. Use of the WashPay Card Terminal increases the amount of time customers spend in the bay compared to cash customers, thus maximizing the site's profits. An optional receipt printer is also available.
With WashPay, wash owners can remotely monitor and configure their bays as well as view sales and equipment usage reports. Multiple purchases by a customer may be combined into one transaction, minimizing credit card transaction fees. To attract new customers and easily monitor your site, add WashPay to your new or existing location!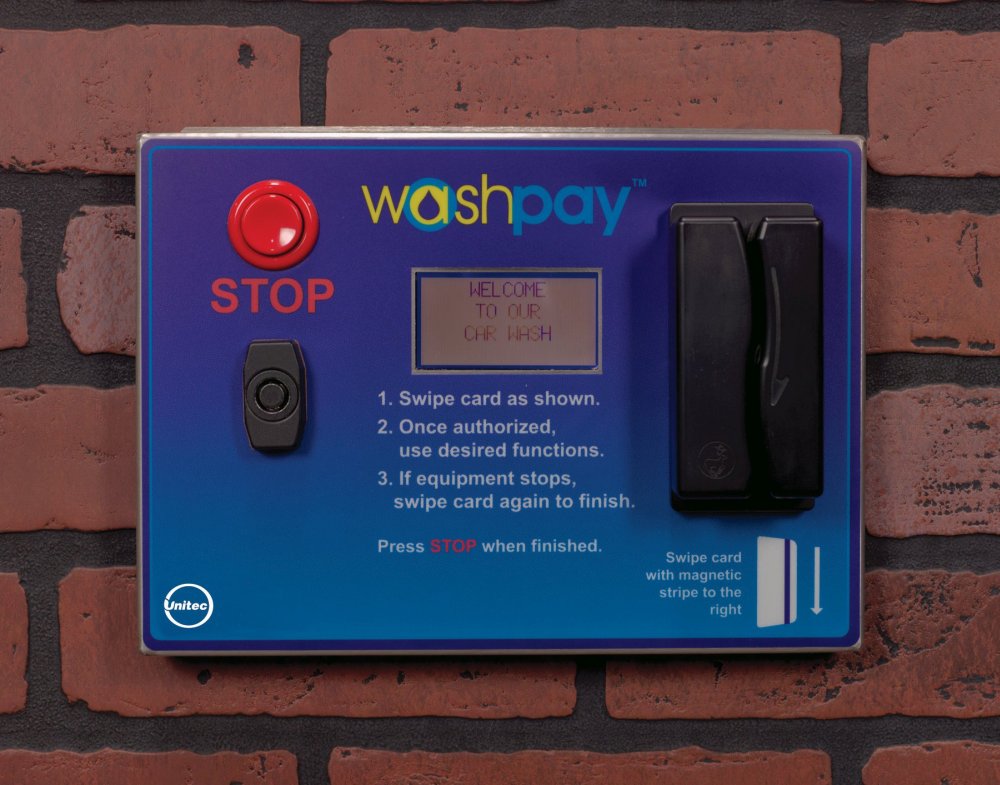 The WashPay Site Management System consists of card terminals, a central site controller and a networking kit. Optional components include a customer receipt printer, credit dial appliance (not required for Internet credit card processing) and a User Interface Kit for the site controller.
WashPay Card Terminal

Connects to self-serve equipment timer to add card payment and cash monitoring

Large-character LCD display n Dimensions: 7.12" H x

10.12" W x 4.09" D

Weight: 10.55 lbs.

Power: 24 VAC, 1.5 Amps (max)

Site Controller

Available in 2 versions: Wall- mounted (for equipment room installations) and a Basic version (for environmentally-controlled areas)

Both models include a network router with ports for a local PC and Broadband modem

Power: 120 VAC, 2.5 Amps (max)

The controller should be powered from a UPS. The UPS should be rated at 400 VA or higher and include surge protection for the power and phone/broadband connections

Wall-mounted version is packaged in NEMA 12 enclosure

16-port Ethernet switch available n Wall-mount specs:

Dimensions: 20" W x 16" H x 7" D

Weight: 36 lbs.

Basic version specs:

Dimensions: 11.6" W x 10.8" H x 2.5" D Weight: 7 lbs.

Stainless steel enclosure with waterproof

card reader

WashPay Receipt Printer

Wall-mount design; requires rear access (for paper loading and service)

Customer-activated printer for outdoor installation; suitable for unattended sites

Dimensions:

Enclosure: 7"W x 16"H x 12"D Front Panel: 10" W x 19" H Weight: 28.80 lbs.

Power: 120 VAC, 1.8 Amps (max)

User Interface Kit

Allows site controller to be used as a management computer (when an onsite computer is not available)

Includes a 15-inch LCD monitor, keyboard and mouse
Customer Convenience
The WashPay card terminal accepts most major credit cards in self-serve bays through dial-up or internet-based processing. Research shows that those paying with a credit card tend to spend more time in the car wash bay than those who pay with cash.
Flexibility
WashPay's expansive memory allows storage of over 100,000 house accounts. A number of optional components are available, including a customer receipt printer and credit dial appliance.
Marketing Options
VIP Wash Pass cards allow car wash owners to offer gift cards and postpaid fleet accounts. A new bonus time feature rewards customers with free time after their purchase reaches a specific (qualifying) value.
Efficiency
The WashPay site management system is capable of monitoring cash all payments received at automatic and self-serve bays through an internet application that is accessible on-site or remotely. This, along with consolidated reporting functions, provide the benefits of real-time data on revenue generated and cash collected. Site owners can also be notified via pager or email in the event that a system warning or faulty event occurs, allowing for issues to be identified and resolved immediately.
Durability
The WashPay is protected with a stainless steel enclosure that features a waterproof card reader.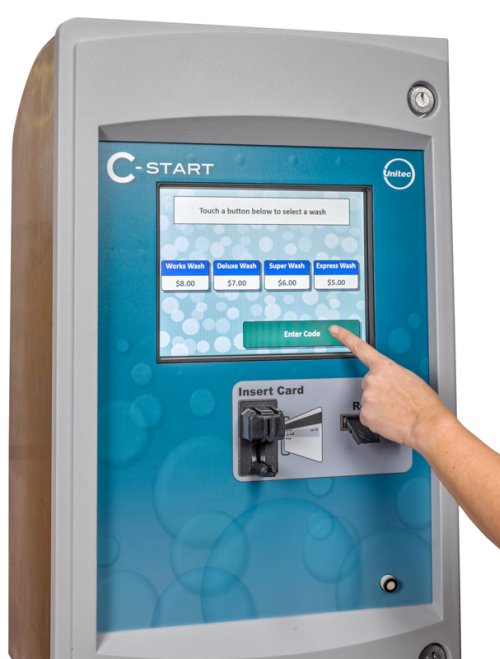 The C-Start was designed to simplify the transaction experience for car wash customers. The unit works with in-bay automatic or conveyor car wash systems and is the right choice for operators who wish to automate payment processes: the cashless unit accepts credit cards or wash codes. C-Start is a smart and efficient choice for petroleum market operators.
Industry's Most Secure Vault
Accepts Cash, Credit Cards, Loyalty Cards, Codes, & Tokens
Dispenses Change in $1 Bills
Customer Loyalty System option
RFID System option
Built-in Web Interface for Updating, Reporting & Monitoring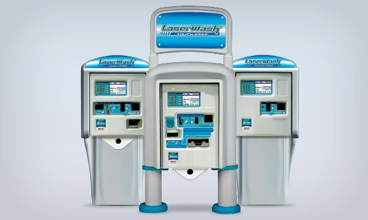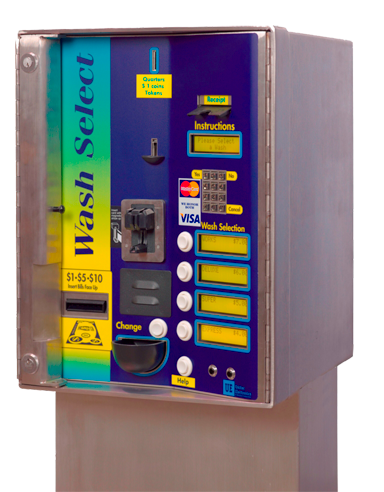 Wash Select II®
Unitec System
The Wash Select II is a premium entry system for the unattended automatic car wash market. As the leading car wash entry system for the petroleum market, its patented, ergonomically-designed front features daylight-readable LCD displays that guide customers through the car wash payment process while promoting the purchase of upgrades.
Phone: 509-226-9944  or 877-517-8200 (Toll Free)
Address: 24801 E Wellesley, Otis Orchards, WA 99027
Business hours are:
7:30 A.M. to 4:00 P.M. PST
Monday through Friday