Touch Free Automatic
PDQ LaserWash 360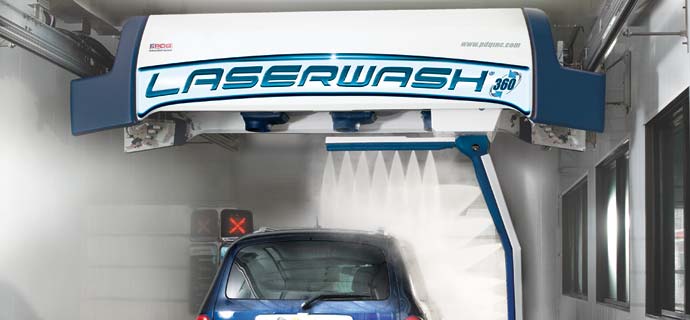 The newest LaserWash® in-bay automatic car wash raises the standard for touchless car wash equipment. With Revenue Enhancement and Total Cost of Ownership improvements being the main focus, this vehicle wash system delivers the industry's best Return on Investment. Smart 360™ Technology enables the car wash system to be responsive to the dynamic conditions in the wash bay and allows it to "think for itself", increasing up-time and optimizing the wash process.
Substantially faster wash speeds lead to increases in vehicle throughput and shorter lines that will make your customers happy. Simplified machine design and lower energy and utility usages reduce operating costs leading to a more profitable car wash operation.
PDQ's staple Open Wash Bay - overhead design with no floor steel
Integrated FlashDry®
Virtual Treadle® bay loading
Smart 360™ Technology
Slip-Free Belt Drive
More Services - 3X Foam, Super Sealant, Rain Rinse Arch, Bug Prep
Tankless Operation
Internal Bridge Rollers
E-Chain Utility Routing
Built-in Web Interface for Updating, Reporting & Monitoring
Increased Revenue
The LaserWash® 360 car wash system allows more opportunities to enhance your revenue stream with new service offerings and improve car wash package differentiation to better align with your customer's needs. New services include; Front Bug Prep, dedicated Super Sealant applicators, FlashDry® rinse and enhanced arch control for better detergent coverage and improved bug removal. Substantially faster wash speeds will increase your vehicle throughput - reducing a customer's total time at the site and putting a smile on their face.
---
Lower Cost of Ownership
Reductions in water, electricity and chemicals drop right to your bottom line while simpler parts replacements and easier troubleshooting reduce on-going maintenance costs. The Smart 360™ Technology system dramatically reduces the interaction needed by an attendant while the non-corrosive structure fights the harsh wash environment for the long-term. A "keep-it-simple" design goal is realized by significant reductions in sensors, swivels, valves and the use of common electronic parts throughout.
---
Return on Investment
With the PDQ LaserWash® 360 your Return on Investment is a combination of Wash Volume Increases, improved Revenue per Wash and reduced Costs per Car. A quick pay-back from your initial investment, the piece of mind of knowing that you have a new machine and the true "Green Savings" from a faster, simpler and more efficient system confirm the profit increasing potential to your bottom line.
Phone: 509-226-9944
Address: 17 N. Ralph St. Spokane, WA 99202
Business hours are:
7:30 A.M. to 4:00 P.M. PST
Monday through Friday